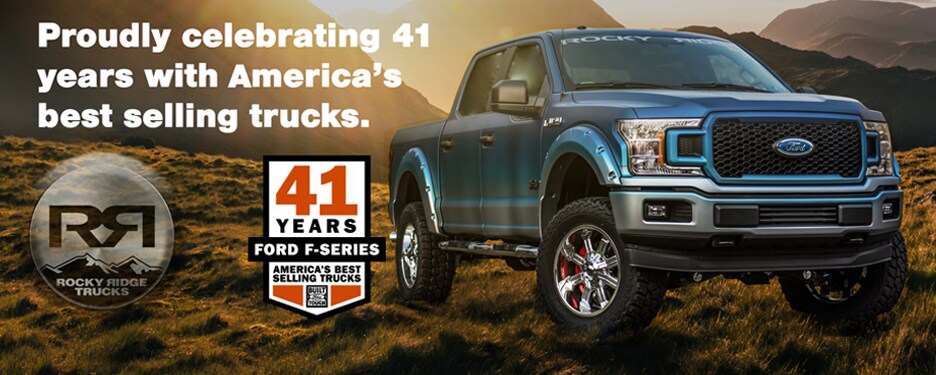 Consider a Rocky Ridge Ford Truck in Sussex, NJ
Equip your Ford Truck with Custom Upfits and Build Packages
Interested in taking your truck's luxury qualities and performance capabilities to the next level? Here at Nielsen Ford, proud to work with Rocky Ridge Trucks on certified custom upfits and build packages for Ford F-150 and F-250 trucks, you can better equip your rig to thrive off-road and captivate around town.
Ways to Customize your Ford F-150 or F-250
With up to 10 different packages available, including signature lift kits for increased ground clearance from two up to six inches, you can make significant interior and exterior modifications to the Ford F-150 or F-250 you wish to build through Rocky Ridge. Other options include stainless steel exhaust tips, color-key pocket flares, slimline style fender flares, two-tone and gradient paint additions and more. Inside, you can add sophisticated touches such as leather seating and heated front seats to your full-size Ford pickup truck or Ford Super Duty.
Build a Custom Rocky Ridge Ford F-150 or F-250 Truck in Sussex, NJ Today
Select your packages, custom upfit options and Rocky Ridge accessories and build the luxurious, fine-tuned performance truck you desire, right here at Nielsen Ford today. View our Ford Rocky Ridge inventory currently featured before contacting our team with any questions you may have.
Questions? Let us know.
* Indicates a required field
Warranty Coverage Included with Every Rocky Ridge Ford Truck
When you purchase a new Ford F-150 or F-250 truck through the Rocky Ridge custom upfit program, that Ford factory warranty from our authorized dealership remains unchanged. That means the peace of mind you expect with substantial coverage for your automotive investment is still delivered dependably. An additional 3-year/36,000-mile warranty provision extends to the Rocky Ridge specialty parts used to build your performance truck and include the custom packages you opt for. Unlike other custom work in the marketplace, Rocky Ridge Trucks come with OEM guarantees and certified reassurances.
Rocky Ridge Trucks – A History Lesson
This advanced vehicle upfitter began in the mid-1980s with a focus on GM conversion vans, shifting their attention over time to customization for off-road trucks and SUVs. With over 30 years of experience building lifted trucks to earn the title of America's premier upfitter, you can feel confident in their ability to turn your dream vehicle picture into a reality. Recognized as a Specialty Vehicle Manufacturer (SVM) in accordance with Ford SVM specifications, Rocky Ridge Trucks is directly coordinated with OEM requirements to verify this official status as a trusted brand.