Get Ford Parts from Us in Sussex, NJ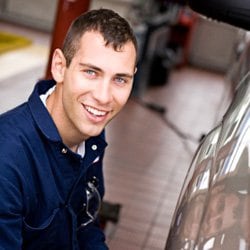 At Nielsen Ford in Sussex, our parts department is here to help you find the right auto parts and accessories for your vehicle. To keep your Ford running at its best, you need the right fit, and with the help of our team, you'll be able to find it at our Ford parts center serving those in Hopatcong, Newton, Vernon and Sparta, NJ as we can make recommendations, and connect you with the parts and add-ons that you need to ensure you have a well-running ride!
Why Should You Get Genuine Ford Parts?
If you are driving a Ford, maintaining its integrity is important. Your vehicle will run properly when it has the right underpinnings, and everything from a side-view mirror cap to wiper blades and brake pads and rotors, along with axles and shocks is important. With genuine Ford parts you are getting the exact fit for any model, across a number of model years, as our parts department is able to source these directly from the manufacturer. The genuine parts from Ford are always worth it because you know it's the right one, and even if you may find lower cost parts, those often are not up to standard, and could lead to added vehicle issues down the road.
The combination of our parts team making the right recommendations for you and your Ford, be it the Escape, Explorer, Ranger or F-150, plus our service team who are here to install these parts for you means you have the backing of our expertise every step of the way. Additionally, for those who are currently leasing a Ford, you have to ensure that any parts are replaced with genuine Ford parts, and often that can be covered in your new vehicle warranty plan.
We do utilize aftermarket parts and have some available for our customers, and will always make recommendations based on what is best for your vehicle. We do of course service all makes and models, not just Ford cars, trucks and SUVs, and in some cases a part may not be available anymore, so we'll get the next best thing, with assurances that it will last.
What Types of Ford Parts and Accessories Do We Carry?
We carry Ford parts, but will have you covered with the following:
• Brake pads
• Rotors
• Car batteries
• Wiper blades
• Floor Mats
• Tires
• Struts
• Shocks
• Air filters
Of course, it's not limited to that and there are specialized parts for our truck lineup like truck covers available too. Whatever you need, we will source it and get it to you for pickup or delivery. We can help DIY-types to those who come in for auto service for any routine or complex repair needs.
Learn More and Contact Our Parts Department with a Request Today
If you know what parts you need or have any general questions, feel free to contact us here at Nielsen Ford of Sussex and we'll get back to you soon and guide you through the entire process!